Silvio Jermann: the revolution
of a visionary who does not
compromise on quality.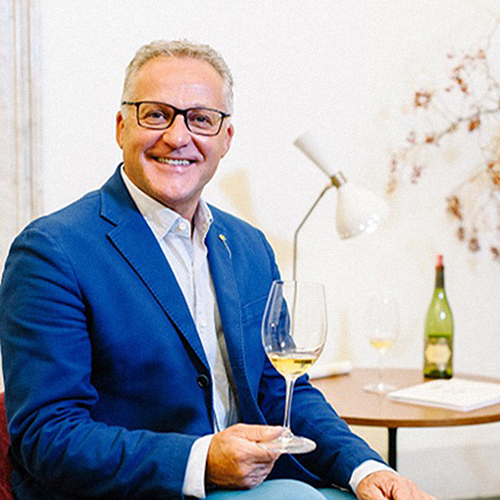 It was the 18th century when Stefanus migrated from the Austrian Burgenland to the village of Bilijana (today Slovenia). Later in 1881 Anton Jermann, Silvio's great-grandfather , in turn moves from Bilijana to Villanova.
Quality year upon year, innovation, deep pride in his heritage and respect for his family and for Anton the old patriarch, who in 1881 left his home village nestled between the borders of Austria and Slovenia to set roots in Friuli. Fully concentrated on the results and never compromising on his goals or his dreams, Silvio Jermann, from the very beginning was destined to leave a lasting mark in the world of wine. Luigi Veronelli, sensitive and highly educated journalist and founding father of the Italian winemaking culture, way back in 1979 wrote about Silvio on the cultural and lifestyle magazine "Panorama":
"(…) Let's speak about a veritable Mennea of wines, Vintage Tunina, an exciting cru of the Collio Goriziano. Silvio Jermann, a friend and young wine technician, has gone against the stream: he has created a blend of the best grapes of Pinot Bianco and Sauvignon from the Tunina vineyard. A vineyard in Ronco del Fortino in Villanova di Farra, that owes its name to one of Casanova's mistresses. The result is an unrivaled wine: pale gold yellow, joyous and brilliant in color; the bouquet is ample, rich and sensual with hints of capsicum, ripe tomato and acacia blooms. In the mouth it is dry without being sharp, and still, fleshy and even sensual with exquisite finesse; it has a vivid backbone that fans out like a peacock's tail. A wine that has character and personality. A 750ml Bourgogne bottle costs 3.500 Lire. Winemaker: Silvio Jermann (…)"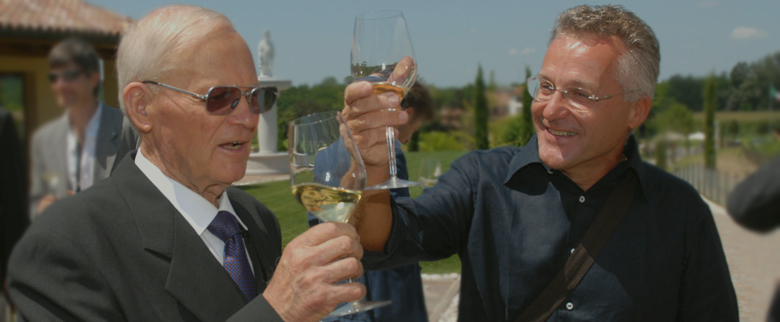 It is quite impossible to make a list of all the reviews, articles, interviews, and awards Jermann wines have been mentioned in. In 2000, in Italy's "Civilta del bere" magazine, journalist Cesare Pillon vigorously affirms:
"Silvio Jerman is the winemaker that is most representative of Friuli Venezia Giulia. His wines may be much talked about, criticized or loved, but one thing is certain: they can be found all over the world. Though Silvio is still far from his fifties, he has already gained extensive experience, and not only in Italy: the success and great results he enjoys today derive from years and years of hard work and commitment. The wineries and the estate are spectacularly picture perfect in every detail: the wines, pleasant and refreshing with exceptional length are the mirror of their winemaker. This time Jermann has managed to create two spectacular wines and another that keeps them good company "as usual" as Silvio would say. I'm talking about Vintage Tunina 1997, a blend of Chardonnay, Sauvignon, Picolit and other aromatic varietals, which ranks high as a "top wine". It delivers a great body and is very pleasant, the nose is serious and complemented by a rich complexity of aromas of tomato leaf and fruit, the bouquet is well-developed and fruit-driven, incredibly elegant. Capo Martino 1997 is a blend of Tocai and Pinot that have aged in oak barrels, offering an extraordinary array of fruity aromas; it is "layered, richly extracted, with a full body, flavorsome, balanced and elegant ..." these are some of the comments made by eminent experts. Once again, Dream 1997 is confirmed as one of the best wines: both fruit-forward and flowery, perfectly balanced, light and spicy. "Among the single varietal wines, we have found an incredible Chardonnay and definitely appreciated the Afix Riesling, the Pinot Grigio and the Vinnae.""
30 Years of Gambero Rosso:
awarded in Rome
In 2016, Silvio Jermann was crowned best representative winemaker of Italian white wines in the world. The election took place in Rome under the aegis of Gambero Rosso by the most authoritative journalists of the greatest newspapers and magazines. The outcome was no chance or even unexpected. It is the result of a deeply rooted process and never ceases to rock the wine industry: with wines that have an exceptional quality and are the fruit of continual research for excellence, and an absolute respect for the land and its natural cycles, with the added bonus of a unique winemaker, an innovator and a visionary since he was a boy, with an idea of a "blend" which still did not exist. A very daring young man who left home for Canada to "boldly do things his way" when he could have remained comfortably at home and do the things he was told to do".
In that moment I thought to myself:
I want to create a wine as I imagine it.
The experience and the vision he gained acting so boldly led him to "Vintage Tunina", which is the symbol of Italian viticulture in the world and which has earned an array of important awards and prizes. An eclectic, expert golfer, visionary business man, passionate about numerology, and an enthusiast of "lateral thinking", man of discipline and considerable insight, Silvio Jermann makes his wines in his two wineries, in Farra d'Isonzo and in Rutters, respectively. Inaugurated on 07.07.07 (notice the numbers), the winery in Ruttars is nestled in 20 hectares of the Collio's best crus, in a picture perfect location. It combines architecture, eco sustainability and the unique ability of Silvio Jermann to always go a step further from what a classical winery is considered. And if by magic the blind Argentinian Nobel Prize writer, Jorge Louis Borges, "father of concept of labyrinth" could see it, he would open his eyes and feel at home.
DISCOVER THE JERMANN WINES
THE JERMANN FAMILY