3 March 2017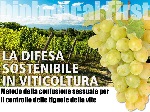 8 March: Sustainable defense in agriculture.
The seminar that will be held in Ruttàrs on 8 March is dedicated to studying the "Method of vine moth control by mating disruption" within the program of sustainable defense in agriculture.
The event, hosted by Jermann Wineries and sponsored by BioGard, will feature presentations of papers, case histories and studies conducted by esteemed academics and expert professionals, on an important issue for those that operate with respect of the ecosystem and its delicate balance.
Download the program of the seminar here!